Mobile Deposit is a feature that lets you take a picture of a check and deposit it directly into your Security First Credit Union account-all from your smartphone or tablet.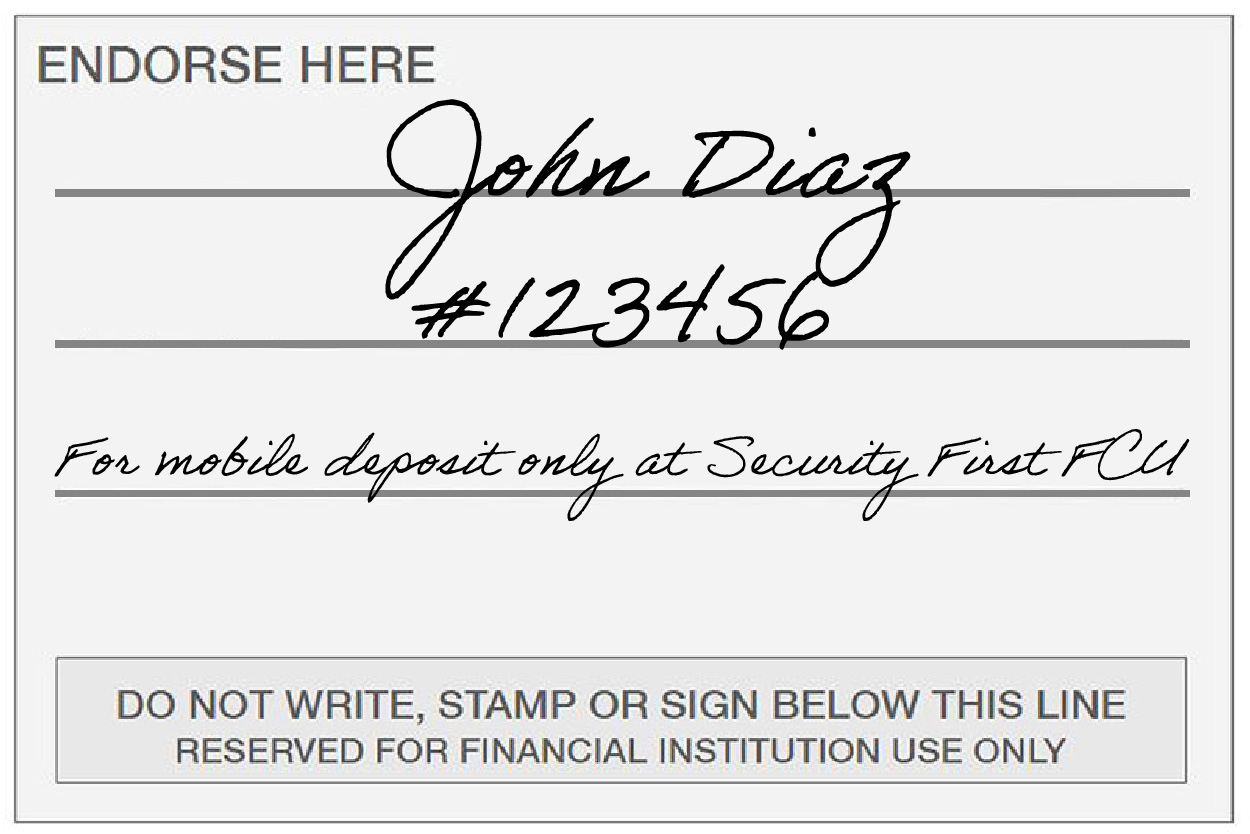 IMPORTANT: PLEASE MAKE SURE TO PROPERLY ENDORSE YOUR CHECK WHEN USING MOBILE DEPOSIT.
Please ensure it is properly endorsed by including:
Your Signature
Your Account Number
Also, include, "For Mobile Deposit Only at Security First FCU"
Features:
Available Free for iOS and Android with the Security First mobile banking App.
Deposit checks from anywhere – it's at your convenience!
No need to visit the branch or ATM.
How it works
To access Mobile Deposit you will need to first have the SFCU mobile banking App and a online banking User ID. If you do not have this set up yet, please visit your nearest community branch or contact our Call Center at 956-661-4000 for assistance.
First before taking a picture of your check, please ensure it is properly endorsed. It must include the following: your signature, your account number, and write "For Mobile Deposit Only at Security First FCU".

Next, open the mobile banking App, and select the Deposit feature.
Now, take a clear picture of the front of the check and then of the back of the check.
Once completed, press the "Make Deposit" button and you are all done!
Ready to get started?
Download the free app from iTunes® or the Google Play™ store:
Online Banking
Learn more about online banking or log in to view your account.
If you do not know your login, or if you have never used online banking before, please contact our Call Center at 956-661-4000, opt. 7, for assistance.
FAQs:
How do I access the Mobile Deposit feature?
How do I log in to the mobile banking app?
How long do checks take to post?
Is there a daily deposit limit?
Do I have to endorse the checks being deposited?
Is Mobile Deposit available for all Security First Credit Union accounts?
Are there requirements for signing up for Mobile Deposit?
Do I need to keep checks after I use Mobile Deposit?