New Online System Upgrades
ALL NEW Online Banking, Bill Pay & Mobile Banking
Download Quick Guide
Why Are We Upgrading? To Better Serve You!
We are committed to offering new services to help our members stay on top of their finances. Our new online banking, Bill Pay and our mobile banking app offer new features, easier navigation, and provides you with more control.
Online System Upgrade Schedule
IMPORTANT: To ensure access to our new online banking system, please verify your contact information (phone number and email address) prior to January 26, 2022. You can update your information from within your online Banking account, by phone with our Call Center at (956) 661-4000 or (956) 661-4050 Option #2, or at any of our branches.
During the online banking upgrade, account access may be limited or unavailable. During this time, you can access your account information through our automated Bank by Phone system at (956) 661-4000.
Please note: Online banking, bill pay and text banking will be available after 1 PM on Saturday, January 29. Mobile Banking will be available after 9 AM on Sunday, January 30. Zelle will be available after 1 PM on Monday, January 31.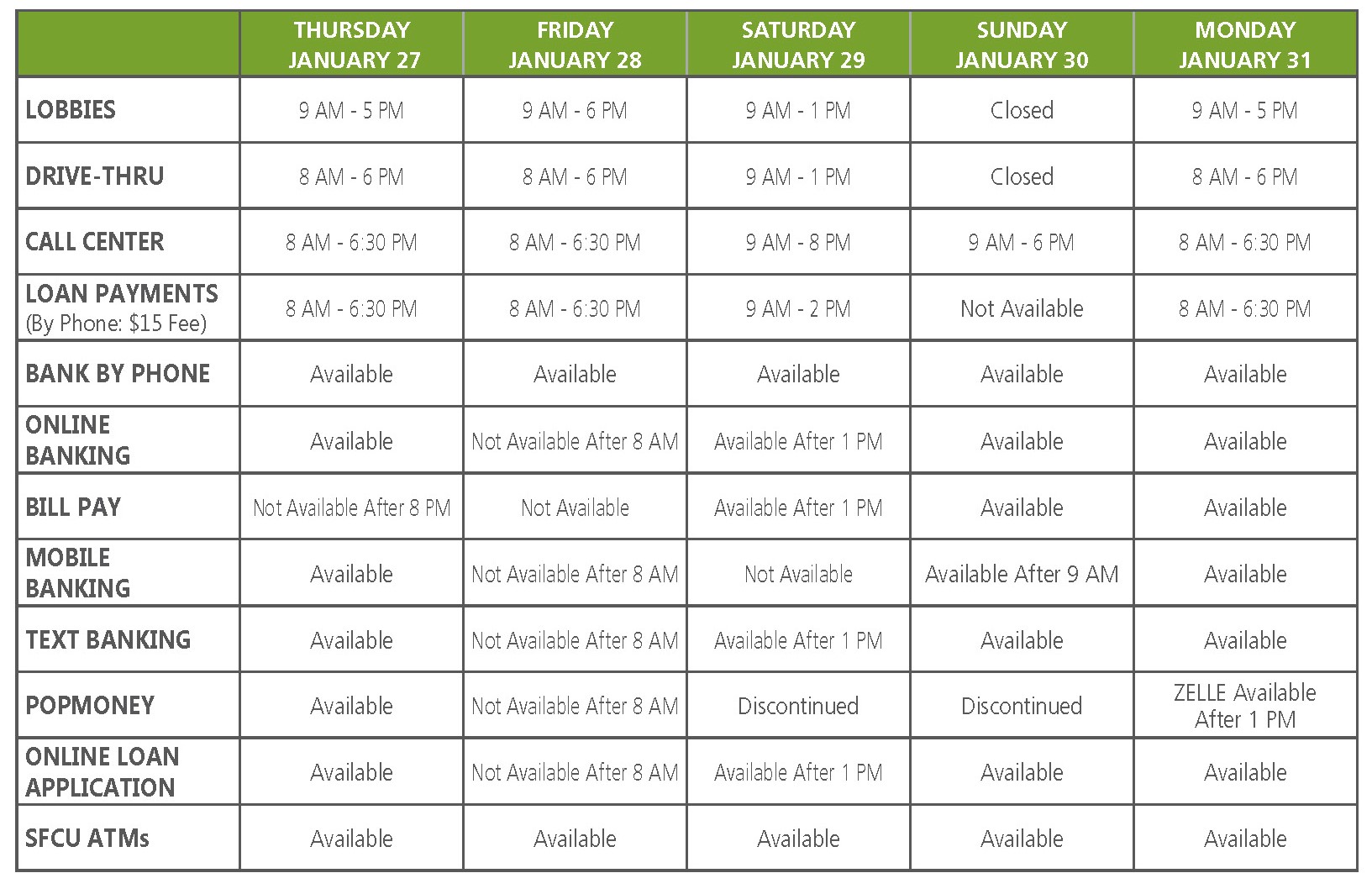 New Features
A few things going away
Popmoney
This service will be replaced with Zelle
On January 31. 2022, Security First Credit Union will be Replacing Popmoney® with Zelle®
If you like Popmoney, you are going to love Zelle®. It's a fast, safe and easy way to send and receive money with friends, family and others you know and trust. Best of all, money arrives typically within minutes between enrolled users.²
Important Reminders:
All scheduled or recurring Popmoney payments in Pending status will be cancelled at the time of the event. You may reschedule the payment after enrolling in Zelle.
Notify your Contacts that you will no longer be using Popmoney. Ask your contacts to enroll with Zelle® before you send them money – this will help them get your payment more quickly.
For a full list of participating banks and credit unions live with Zelle® go to Zellepay.com. If your recipient's bank isn't on the list, don't worry! The list of participating financial institutions is always growing, and your recipient can still use Zelle® by downloading the Zelle® app for Android and iOS. If you receive Popmoney payments, please ask the Sender to use Zelle® to send money to you instead. If the sender's bank does not offer Zelle®, they can easily enroll in the Zelle® app (available in the App Store or GooglePlay) with a U.S.-based VISA® or Mastercard® debit card.
Zelle and the Zelle related marks are wholly owned by Early Warning Services, LLC and are used herein under license. ¹Must have a bank account in the U.S. to use Zelle®. ²Transactions typically occur in minutes when the recipient's email address or U.S. mobile number is already enrolled with Zelle®. ³Scheduled or recurring payments sent directly to your recipient's account number (instead of an email address or mobile number) are made available by Security First Credit Union but are a separate service from Zelle® and can take 1 – 3 business days to process.
Account to Account Transfers: This will be replaced with TransferNow.
Bill Pay Window: There will be no more separate window for Bill Pay. It will now be accessible directly through the online banking menu.
One User Login for multiple accounts: After the upgrade, each account will require its own User ID and Password.
Things that will not be changing after the system upgrade
SFCU Debit and Credit Card Numbers
SFCU Account Numbers
eStatements or Check Images
Check Numbers
Routing Number
Branch Locations and Hours
Call Center Hours
Website address (securityfirstcu.com)
Social Media Platforms
System Upgrade FAQs
User Name/ Password Assistance
If you need assistance with logging in (User ID or Password issues), please contact our Call Center at (956) 661-4000 or (956) 661-4050, opt. 2.
Q. Why are we upgrading our system?
Q. When will the upgrade take place?
Online Banking
Q. During the upgrade, will I be able to access my accounts?
Q. Can I use ATMs and my SFCU debit card during the upgrade?
Q. I am an existing online banking user. Do I need to re-enroll after the upgrade?
Q. Will my account transactional history be available after the upgrade?
Q. Will automatic withdrawals and direct deposits be impacted?
Q. Will I be able to view multiple accounts with one User ID?
Q. I am a joint owner on my account. Do I have access to Trends and to "My Credit Score"?
Bill Pay
Q. Will my recurring Bill Pay payments process during this system downtime?
Q. What happens to my payees, payments, etc., during the conversion?
Q. Will Bill Pay still process the same way?
Q. Will Popmoney still be available?
Q. Will my Popmoney® contacts and payments still process during the conversion?
eStatements
Q. Do I need to re-enroll into eStatements?
Q. Will my eStatement history be available after the upgrade?
Q. Will my bill payees carry over after the upgrade?
Mobile Banking

Q. Will I need to re-enroll into Mobile Banking or reinstall the app again?
Q. Will the new features in online banking also be accessible through Mobile Banking?
Q. Will there be a tablet application for Mobile Banking available?
For a complete list of compatible devices, please click here.
Visit our app store or click below for direct access to our app pages: